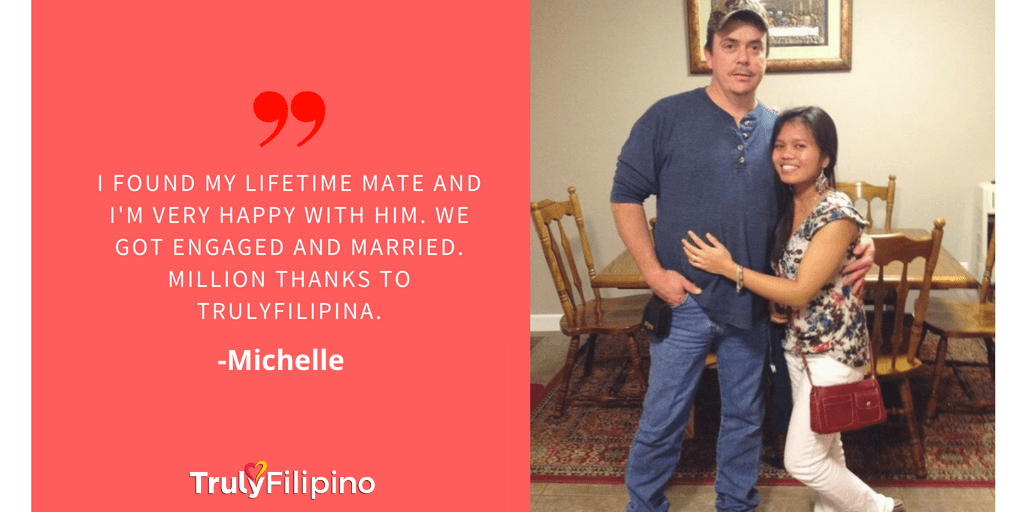 According to the message Michelle sent us she found her "lifetime mate" on TrulyFilipino and she has never been happier.
As mentioned by Michelle, it all started when she was just randomly browsing on TrulyFilipino when Mark's profile photo caught her eye. She decided to make the first move and sent him a message. Michelle told us that she was so ecstatic that Mark replied! Months went by and they just kept communicating and then decided to make their relationship official.
She shared that even though she and Mark had their differences they worked hard to compromise and understand each other just to make their relationship work. They got engaged then eventually got married.
She wishes that all the other members of TrulyFilipino will eventually find their life partner as well. Her advice to all who are still searching for that special someone is to try your best to make the relationship work. That can surpass anything even distance itself.
"A million thanks to TrulyFilipino"
-Michelle
Distance and differences wouldn't be a hindrance to anyone who is willing to make their relationship work. As long as there's compromise, communication and of course, love, any couple can surpass any challenges together.
Michelle and Mark's story is just one of many that have met on TrulyFilipino. Join for free and start meeting Filipino singles today!
Note: Original content was slightly changed for length and clarity.