5 Best Restaurants In Manila for Romantic Dates
Best restaurants in Manila? For anyone in the first stages of dating, knowing where to bring a date might seem like you're moving too fast. But picture this: After some time on a Filipino online dating site or app, you have finally matched with an individual that you click with, be it instantaneous or in due time. A few days, weeks, or even months pass, and the two of you decide to take the next step — meet each other in person.
Suppose you have been tasked with planning for the first date (or any succeeding dates, really). In that case, you should know not to make any decision regarding the activity or setting lightly. After all, the first date has the highest potential to make or break your chances of forging a strong relationship with your online match.
Now, let's say you're at a loss as to what to do for the date. There's no reason to fret, as you can always rely on the classic things to do in Manila for a good starting point. A food-centric experience makes an excellent selection since the presence of good food can make any bonding moment beyond phone or computer screens even more special.
It may seem like a bore compared to the million and one other things you can do on a first date. However, looking at it from another perspective will show the advantages that brunch, lunch, and dinner dates present, which is customizability.
Dot the i's and cross the t's
If you find yourself in this part of the article, you've likely decided to go with a food venture for your first date. Before you can get to the more exciting part of the planning process, you'll first need to settle on the finer details that can affect the dining and, consequently, the dating experience.
1. Dietary Restrictions
Since the menu is the main star of the date, it only makes sense that you learn about anything that can affect the menu choice. This can be food allergies, lifestyles, or simply pickiness when it comes to meals.
2. Budget
When it comes to any date, not just food-related ones, it's crucial to factor in the limit of one's wallet. Moreover, if you're the one shouldering all of the expenses, or if you and your date are splitting them, be it equally or not.
3. Day of the Week
Looking up the operating hours of potential date locations should never be forgotten, as not all establishments follow the same schedule. Moreover, the day and time of the week can even affect the menu that you'll get to choose from if you and your date do end up going.
4. Bookings
Regardless of the location's popularity, try to make a booking if offered as an option. Outside factors can affect the traffic in dining establishments, and there's always a chance of there being more people than expected. It's never fun to wait around, so prevent any irateness from brewing by calling in ahead of time.

Food Is the Way to the Heart
Manila's bustling, busy streets come with a prosperous restaurant industry that features cuisines not only from around the Philippines but the rest of the world. These restaurants also elevate the dining experience either through unique menu fusions, stunning interior decor, or even the restaurant service itself. Below are the few standouts in the crowd.
Blackbird at the Nielson Tower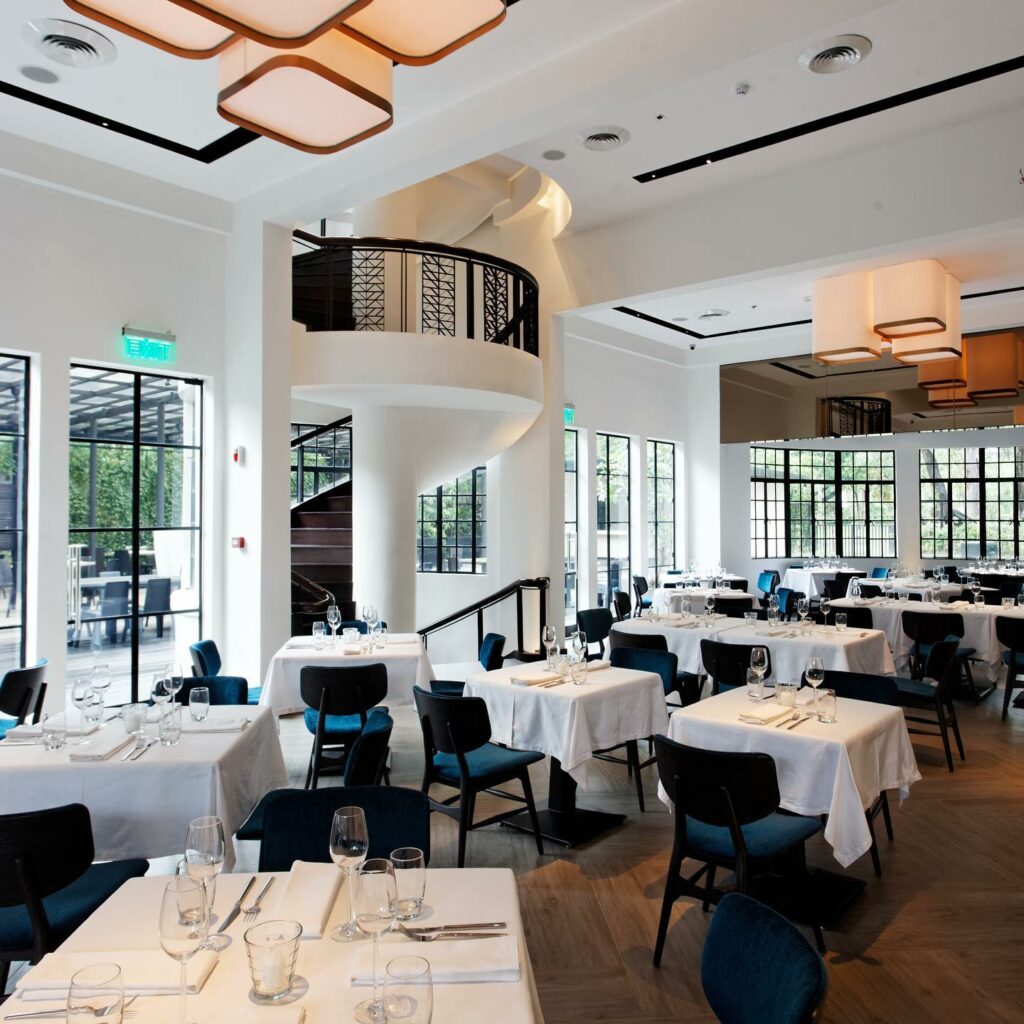 | | |
| --- | --- |
| WEBSITE | https://www.blackbird.com.ph |
| ADDRESS | 6752, 1229 Makati Ave, Makati, 1229 Metro Manila |
| CONTACT DETAILS | +632 8828 4888 / +63 917 8892782info@blackbird.com.ph |
| OPERATING HOURS | Sunday to Saturday 11AM TO 7PM |
When talking about the best restaurants in Manila for romantic dates, it would be remiss not to mention the Blackbird at the Nielson Tower.
This stunning restaurant in the heart of Makati can be found inside the Nielson Tower, a landmark that resembles a plane from a bird's eye view. It is also known as the Philippines' first commercial airport.
Much of the Blackbird's charm lies in the preserved art deco design, which features sprawling floor-to-ceiling windows and a classy blue and white palette.
The food is to die for as well. Blackbird offers four different menus depending on the time of day, so couples can come in at any time and enjoy unique dishes. Additionally, the vast array of selections ensures that people with dietary restrictions can still enjoy Blackbird's menu.
Highlights
Vegetarian options available
$$$
NINYO Fusion Cuisine and Wine Lounge
| | |
| --- | --- |
| WEBSITE | https://web.facebook.com/NinyoFusion |
| ADDRESS | 66 Esteban Abada Street, Loyola Heights 1108 Quezon City, Philippines |
| CONTACT DETAILS | 0939 921 5881 |
| OPERATING HOURS | Tuesday to Sunday 11AM to 9PM |
Next on our list of best restaurants in Manila for romantic dates is NINYO Fusion Cuisine and Wine Lounge. NINYO is a quaint establishment near the infamous Katipunan Avenue, known by the locals as a pleasant escape from the ever-busy city life.
As hinted by the restaurant name, NINYO offers an extensive menu comprising various drinks and fusion Asian-European cuisine. Guests have the option to choose between the A La Carte menu or NINYO's exclusive Degustacion menus, which are 6-7 course sets spanning the best of what NINYO has to offer. Regardless of choice, there is a dish for every palate, notably seafood and meat lovers.
Another bonus that comes with choosing NINYO for the date is the restaurant decor. Diners get the opportunity to enjoy good food in a cozy ambiance made from the lush greenery and rustic accents that fill Chef-Owner Niño Laus' ancestral house.
Highlights
Vegetarian options available
Large cocktail and wine menu
$$$
Le Petit Soufflé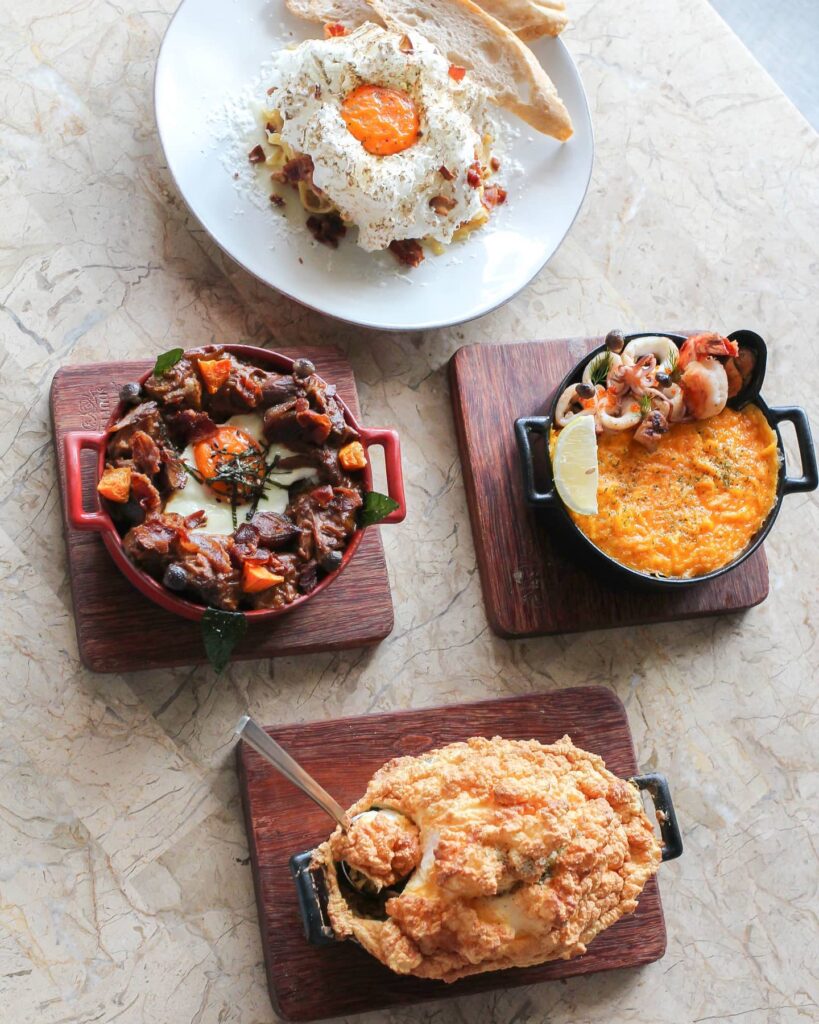 WEBSITE
https://web.facebook.com/Lepetitsouffle
ADDRESS
3rd Floor, Century City Mall, Kalayaan Ave., Poblacion, Makati City
2nd Floor, Mega Fashion Hall, SM Megamall, Ortigas, Mandaluyong City
CONTACT DETAILS
718-5681 (Century City Mall Branch)944-6541 (SM Megamall Branch)
OPERATING HOURS
Based on mall hours
When it comes to enjoying comfort food with your date, there's no beating Le Petit Souffle. This picturesque restaurant has branches in Makati and Mandaluyong, both of which offer a bright and airy ambiance that pairs well with its delectable menu.
Guests are met with faux trees and a warm interior palette that will surely uplift anyone's mood. Food-wise, Le Petit Souffle doesn't lack either, considering their French-Japanese comfort foods stand out in terms of originality, taste, and quality.
Those who are wary of trying it out due to the French part of the cuisine need not fret, as Le Petit Souffle's menu balances out French Food's subtleness with the straightforwardness of Japanese dishes.
If you're looking to try out some of their best dishes, consider the Carbonara Souffle, Japanese Beef Curry Souffle, and Pork Bourguignon when you visit on your first date. The menu also features various desserts that will surely create a delightful ending to the meal.
Highlights
Excellent customer service
'Grammable location
$$
Greg & Sally Tree Garden Cafe
| | |
| --- | --- |
| WEBSITE | https://web.facebook.com/GregandSally |
| ADDRESS | 145 Ipil St cor Champaca, Marikina Heights 1810 Marikina City, Philippines |
| CONTACT DETAILS | (02) 940 1976hello.gregandsally@gmail.com |
| OPERATING HOURS | Sunday 8AM–9PMMonday ClosedTuesday 11AM–9PMWednesday 11AM–9PMThursday 11AM–9PMFriday 8AM–9PMSaturday 8AM–9PM |
Nature has long since been intertwined with romance, making the next restaurant on our list a prime choice for romantic dates. Located in Marikina Heights, Greg & Sally Tree cafe is a dreamy garden that offers plenty of open-air seating in its spacious lot.
Enjoy the beauty of nature alongside authentic Filipino cuisine, as Greg & Sally Tree Cafe offers a substantial menu featuring classics like Sisig, Crispy Pata, and Bagnet Pinakbet. What sets apart these dishes, though, is the chef's choice to infuse it with herbs to elevate the flavors.
Highlights
Perfect for cool yet sunny days
Affordable meals
$
Big Boy's Diner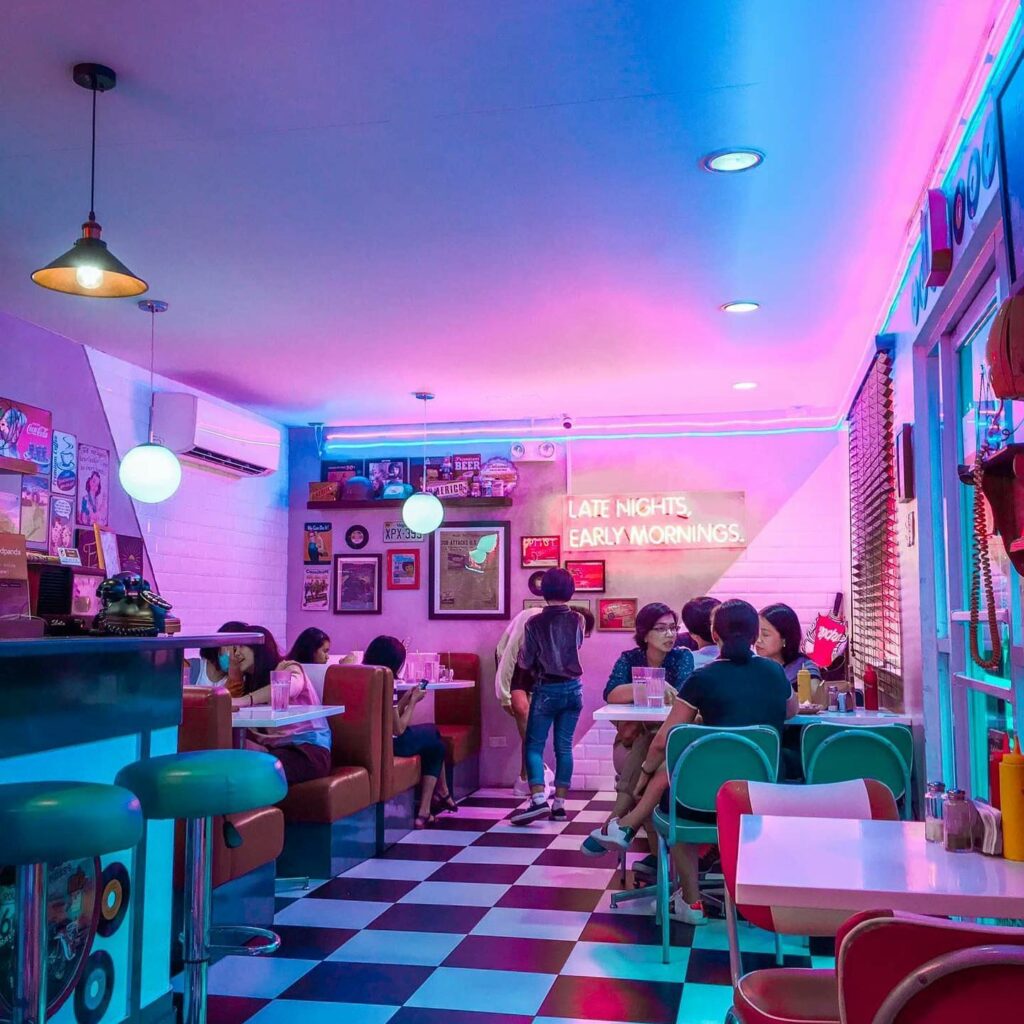 | | |
| --- | --- |
| WEBSITE | https://web.facebook.com/bigboysdiner |
| ADDRESS | 128 Santo Domingo Avenue, Barangay Siena 1104 Quezon City, Philippines |
| CONTACT DETAILS | 86666919/+63 917 811 5577 |
| OPERATING HOURS | Sunday 11AM–9PMMonday 11AM–2PM, 5–9PMTuesday 11AM–2PM, 5–9PMWednesday 11AM–2PM, 5–9PMThursday 11AM–2PM 5–9PMFriday 11AM–3PM, 5–10PMSaturday 11AM–10PM |
Completing our list of best restaurants in Manila for romantic dates is Big Boy's Diner in Banawe, Quezon City.
This diner draws in guests with its retro concept, inspired by Riverdale's Pop Tate's Chock'lit Shoppe. It's most known for the vintage-looking furniture and decoration plus neon lights. Still, the hearty yet affordable menu is what completes any visit to Big Boy's Diner.
Big Boy's Diner's food and drink selections transport guests back to the 50s. It boasts American classics like milkshakes, hamburgers, and chicken and waffles.
Highlights
Photogenic location
50s inspired theme
$
While it isn't a requirement, try to book a table ahead of time to prevent any seating delay on the date itself. Also, don't be afraid to pair the food-centric part of the date with other activities.
There are plenty of things to do in Manila that are date-worthy. Among them, film viewing in a unique theater adds the most entertainment value. It can also go before or after the meal.
If you're not interested in sitting through a 2-hour long movie, consider adult playgrounds or arcades to secure unforgettable bonding moments between you and your date. Museum tours also make for actual conversations that can deepen your knowledge of each other.
At the end of the day, what matters most is that you and your partner enjoy yourselves. You can achieve such a feat by customizing the date to cater to your tastes as well as your partner's.

The Motto of the Wise
In traditional circumstances, planning a date ends upon choosing a restaurant. However, it isn't quite the same for couples whose stories began on the Filipino online dating scene. If it's the first date (or even second), there are certain precautions you need to take to insure your wellbeing and, subsequently, better the chances of having a perfect first date.
Inform a friend or family member of the date details.
Take separate vehicles to the location.
Video chat before the first date.
Provide updates to the aforementioned friend or family member.
Uncomfortable at the prospect of doing all these? That's perfectly fine, especially if you have spent quite some time bonding with your date through the app or site you matched on. Still, it's not so much a lack of trust in your potential partner as it is wanting to keep both of your safety a priority.