Love In the Time of the Internet: Traversing Manila Online Dating
Romance breathes color into our lives. It makes hearts beat, cheeks flush, and sometimes, leaves people speechless. It's quite fortunate that contemporary inventions make great aids for romantic endeavors. For example, the internet and social media have made it possible to forge connections, both platonic and romantic, from anywhere in the world. If we're looking to filter out connections to just potential partners, try out Manila online dating!
Ever wondered what it's like to traverse the online dating landscape? Well, before that, we must first understand the difference between traditional Manila dating and online dating.
Love in the Time of the Internet
Choices, who doesn't love them?
Traditional dating limits us in terms of how we can meet potential partners. In comparison, online dating in Manila has Foreign and Filipino singles spoilt for choices, not only with the people we can encounter but also with the sites we can use to link with them.
With so many sites and applications available on the internet, it's understandable if even experienced daters feel overwhelmed. The key to finding the app that suits is best is research.
Said research would yield extremely crucial information, like the free and premium features that make each site unique. We can even discern what it'll be like to use the apps by reading the reviews, studying the experiences, good and bad, that users have had.
Once we've scrutinized these factors, we can then choose from the top dating apps in Manila.
The face you show the world is important
Say we already chose the dating application or site. It's now time to prepare what we're going to show the users on these apps. First impressions set the tone for all encounters, regardless if we're meeting a person offline or talking to them online for the first time.
We should point out that appearance isn't the only thing that can affect how people perceive us when it comes to online dating. It's just one of the many factors that contribute to our dating profiles.
Moving forward, we must be as truthful as possible when building our profiles. Doing so can prevent any unwanted reveals in the future and even help guarantee that any person we match is genuinely interested in what we have to offer.
Finding "The One" has never been this easy
We have already established that finding the right partner isn't a quick and easy task. After all, there is so much to consider, such as attraction and chemistry, which isn't always easy to spot.
On the other hand, Manila's top dating apps help us save time and energy thanks to their highly efficient systems. Most of the time, all we need to do is sign-up and verify our accounts before we can gain access to the user catalogs. Some advanced dating applications even offer personality tests beforehand so that the system can better match users with others.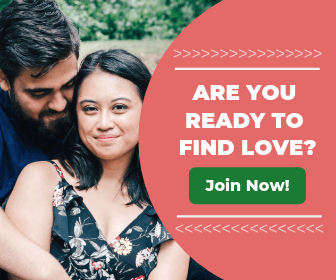 Given the benefits that online dating has to offer our romantic endeavors, it'd be remiss of us not to try it out at least once or twice. Plus, it's also crucial to remember that love is love. Love found online isn't at all different from love found offline if we played our cards right.
Following these benefits are the steps we will need to take to have a successful online dating experience. Exploring these steps can even give conflicted individuals an extra nudge. The steps can also direct Filipino and non-Filipino singles on how to start their online dating journey.
Finding Love Behind A Screen
Set the record straight
The first step to any successful Manila dating experience, traditional or online, is figuring out what we want from the matches that we'll make. Do we want mere companionship? Friendship? A casual relationship? Or perhaps something more long-term and permanent?
Having a goal in mind can be super helpful in profile creation since we can easily note it down alongside our details. Not to mention that it will give us a solid groundwork when we start swiping through potential matches and interacting with other users.
Study the application
We already know that the top dating apps in Manila online dating have features unique to their brands. Even if we're not planning to use multiple sites at once, we still need to learn more about these futures to have the optimal online dating experience.
For example, the block feature.
We can't deny that these apps (and the internet in general) are also grounds where lecherous individuals gather to find their next victims. By knowing how to block a person, we can stay safe on the offhand that we get paired with people who are too pushy, or we just don't want to deal with after a handful of conversations.
Alongside the block button is the report feature, which will do us well to know how to use it since there are individuals who go beyond the realm of annoying. There are catfishers who create fake personas to lure people in. There are also scammers who manipulate the desire for love for a more sinister goal.
By reporting these individuals, not just blocking, we can create an environment that is healthy and safe for people looking for love.

Showcase your best self
As crude as it may sound, online dating is similar to window shopping in that we're perusing countless user profiles to find the ones that suit our tastes. And just like us, other people do the same considering online dating is a two-way street.
Considering this, we need to put our best foot forward in our profiles while simultaneously being honest about who we truly are. Honesty is paramount in this regard, as research shows that we tend to fall for people similar to ourselves. Some determinants included in the research are relationship history, opinion about family and kids, pet preferences, and even religion, all of which are often discussed in the Q&A portion of dating applications. There are top dating sites in Manila that also include politics, lifestyle choices, dating styles, and even sexual preferences.
Now, we then move toward a hallmark that no dating profile can succeed without: The Profile Photo.
1. The Profile Photo(s)
Let's face it; a person's physical appearance plays a huge role in attraction, no matter how unshallow we think ourselves to be. Plus, we can't forget how our appearances also indicate various parts of our lifestyles, from grooming to physical fitness.
Since we're not meeting our matches in real life, it goes without saying that the photos we upload on dating sites and applications should be photos that we like, that highlight our best features with minimal pixelation and editing involved.
Conflicted about the photos to be uploaded? Reader's Digest suggests four photos:
A head shot showing our best genuine smile
A full body shot that features our favorite outfits
A photo that offers a glimpse of our lifestyles or favorite hobbies
A bonus photo that shows a different side of yourself compared to the previous photos
2. The Spiel
Nobody wants to go through an essay-like dating profile. In fact, sharing too much information on our profiles will hurt us more than help, as daters would come to label it as boring and unworthy.
Instead of writing a biography, we should focus on the things that make us interesting. Career, for one, is an excellent ice breaker. So are the activities that we take up when we're not working, like our favorite sport or hobby. Passion projects can even draw the eye of those who share the same passion.
We can also include something we have already discussed prior: What we want in a relationship. By divulging this, we can prevent unwanted advances while setting the tone of our conversations. It also makes it clear with potential matches if the conversation can move towards other territories.
A Pro Tip: Show don't tell. Those who are thinking of mentioning qualities such as witty or funny shouldn't explicitly state it. After all, it's not funny to say you're funny. Instead, think of a smart pun or joke that will get laughs out of people who go through your profile.
Swipe right (or left)
Once we've built our profiles and are satisfied with how they look, it's time to move to the part that every dater is more or less excited about: Exploring the matches that the site or application has to offer.
To hit it off to a good start, we need to remember that our matches' profiles matter just as much as ours do. Taking note of what they have shared, like photos, interests, or even music or film tastes, can help open a conversation.
We can even open with a joke if the other person has expressed enjoyment in them. What's crucial is finding common ground that won't lead to an early end in the conversation. Plus, the conversation should also allow us to learn more about the person beyond what their profile showcases.
As much as possible, we shouldn't draw out online pre-meeting communications. Keeping it short, no more than a month, before setting a meet-up date.
Dating in Manila? Top fun spots in the area make a great conversation piece that can also set a place to meet up.
Another Pro Tip: Be wary of matches who keep postponing in real-life meetings. Often, this behavior is displayed by catfishers and other forms of scammers.
(Don't) settle
Finding the ideal partner doesn't happen overnight. Nor does it take a few days or weeks. So, we need to be patient and, if possible, not settle with matches that we aren't delighted with.
On another note, if the search goes on too long for our liking, we should keep in mind that it's okay to take breaks. Pushing ourselves to continue speaking with near-strangers may lead to the mindset that online dating is work or a chore, which will ultimately ruin our attitudes towards the people we associate with.
Manila online dating is all about having fun and enjoying the thrill of learning more about unique individuals during the search for love. So get started on your adventure dating in Manila!