Anniversary Date Ideas In Manila
Manila is the capital city of the Philippines. When tourists visit the country, they tend to skip this city in favor of the more lush destinations the Pearl of the Orient Seas offers. Many bemoan the endless traffic that plagues the capital.
But for all its flaws, Manila still has a charm that gets folks coming and going. Maybe it's because the bustling city's never asleep. There's always something to do here for everyone, whether you're an early riser or a night owl. Or perhaps it's the blend of the old and the new and the East and the West. Whatever it is, there's a pull Manila has on people.
Since it's such a big city, Manila has more than plenty of dating spots that you and your babe can enjoy together. Are you two celebrating an anniversary soon? Take in its beauty with these anniversary date ideas in Manila!
Where to Go: Our Favorite Ideas
Regardless of your interests, Manila's got something for you and your boo. The city's 16 districts make sure you're never bored. Celebrate each other's company and give these spots a visit!
Learn about the country's history
Manila was the setting for numerous events during the Philippine Revolution. It's no wonder why Spanish-era architecture isn't uncommon in the city. Just look at Intramuros!
If you and your partner love your history and culture, you're going to love these places:
1. Rizal Park
Our first stop for this Manila tour is this iconic Intramuros landmark. When tourists come to the capital city, this 58-hectare tourist spot most think of immediately. So if you're looking for a great first stop on your "anniversary date ideas in Manila" itinerary, this is the place. Just don't mind the Torre de Manila in the background!
Rizal Park sits on Manila Bay's eastern shore in the district of Ermita, adjacent to historic Intramuros. The park played a vital role in shaping Philippine history as this was Jose Rizal's execution site. The area was once known as Bagumbayan, a leisure spot for the Spanish elite. It also became a popular execution site, with the Gomburza priests being a few of the thousands of killings there.
The park also became the site of other historical events, such as the declaration of Philippine independence from the United States in 1946. It was also one of the places where political rallies that led to the EDSA Revolution in 1986 took place.
We recommend wearing comfortable shoes while walking around the area—58 hectares is a lot of ground to cover, after all!
| | |
| --- | --- |
| Address | Roxas Boulevard, Ermita, Manila |
| Operating Hours | 5:00 a.m. to 9:00 p.m. |
| Contact Number | 0919 926 4413 |
2. Fort Santiago
Not to be outdone by Rizal Park, this next stop is just as historically significant. Get to know this 22-foot 16th-century marvel!
Fort Santiago wasn't always the famed tourist attraction that it currently is. Did you know that it used to be a citadel that was previously the Spanish military's seat of power during their 333-year rule? This fortress also served as a prison, locking up resistance fighters and figures who opposed the Spanish in its jail cells and dungeons. One of those prisoners was Jose Rizal himself, who remained confined until his execution.
Today, the fortress houses the Rizal Shrine—a museum of sorts dedicated to the hero. The dungeons are also open to the public, allowing visitors to revel in their ancient and haunting glory. World War II atrocities are also on full display, such as the marble cross in honor of the estimated 600 soldiers who died in one of the dungeons.
Be careful not to touch anything while exploring Fort Santiago! Maintaining Spanish-era architecture is hard as it is, so make preservation less stressful by keeping your hands to yourself.
| | |
| --- | --- |
| Address | General Luna Street, Intramuros, Manila |
| Operating Hours | 8:00 a.m. to 7:00 p.m. |
3. Baluarte de San Diego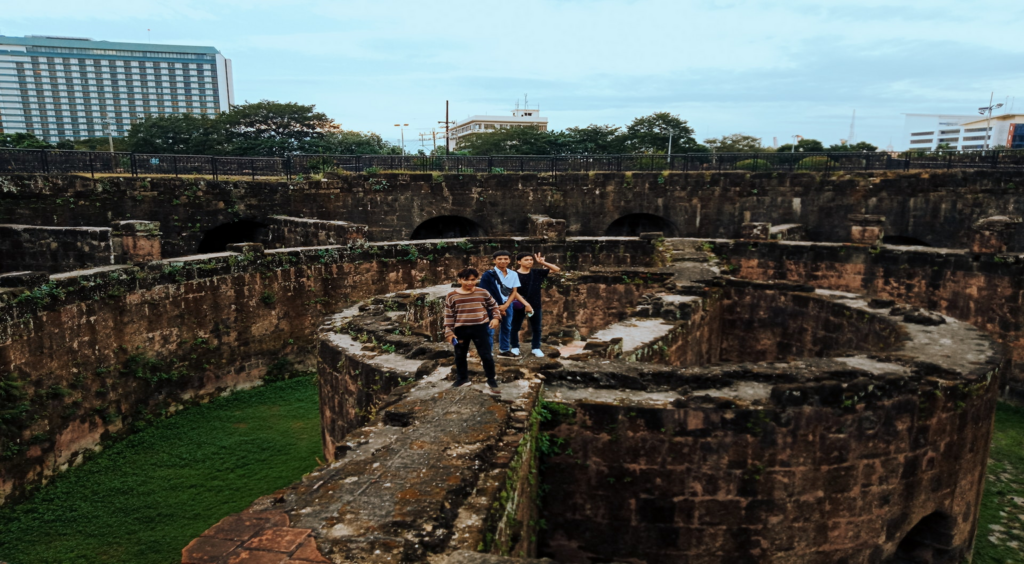 If you thought Fort Santiago's dungeons were a little scary, wait until you hear the history behind this next stop!
Baluarte de San Diego used to be a drowning chamber—yes, you read that right! During the Japanese invasion of the country, prisoners were dumped there and left to drown. It also served to quell off invaders. This 16th-century structure remains standing today, surviving tons of wars and calamities.
Nowadays, you don't have to worry about anyone torturing you and your lover when visiting Baluarte de San Diego. Since it's an outdoor structure, remember to wear comfy clothes. Trust us—you'll thank yourself later for ditching that fancy party dress and kitten heels!
| | |
| --- | --- |
| Address | Sta. Lucia Street, Intramuros, Manila |
| Operating Hours | 8:00 a.m. to 5:00 p.m |
| Contact Number | 527-2961 |
Satisfy your tastebuds
The capital's dining options are almost limitless. Name it; the city's got it! Whether you're craving local Filipino chow or international choices, you don't have to worry about the lack of dinner date options.
No date is complete without a nice meal. Add these places to your list of anniversary date ideas in Manila!
1. Illustrado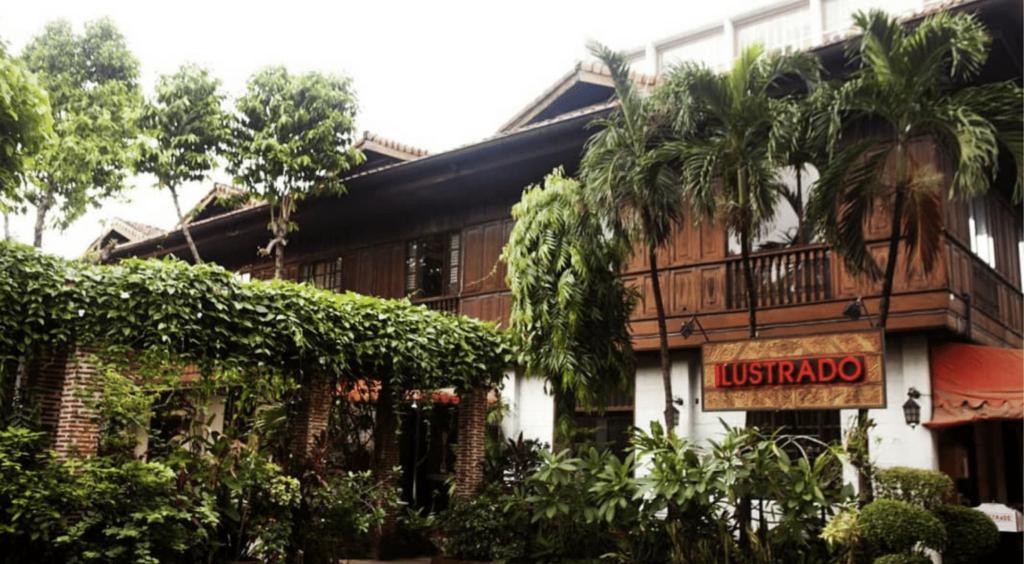 This Spanish-themed restaurant has been around since 1989. Illustrado specializes in Spanish and Filipino food that's captured the palettes of many customers over the years. Their best sellers include their bagnet-topped palabok, callos Marilena, and paella Illustrado. They also cater too; so, if you have a party coming up and you don't want to do the cooking, you'll know who to call.
The food isn't the only reason local Manileños and other tourists keep coming back to Illustrado. The restaurant's also a pretty popular event venue. It has different indoor and outdoor spaces for various occasions. Are you looking for a place for your future wedding reception? Well, look no further than this beloved Intramuros institution!
| | |
| --- | --- |
| Address | 744 General Luna Street, Intramuros, Manila |
| Operating Hours | 9:00 a.m. to 7:00 p.m. |
| Contact Number | 527-3674 |
2. Harbor View Restaurant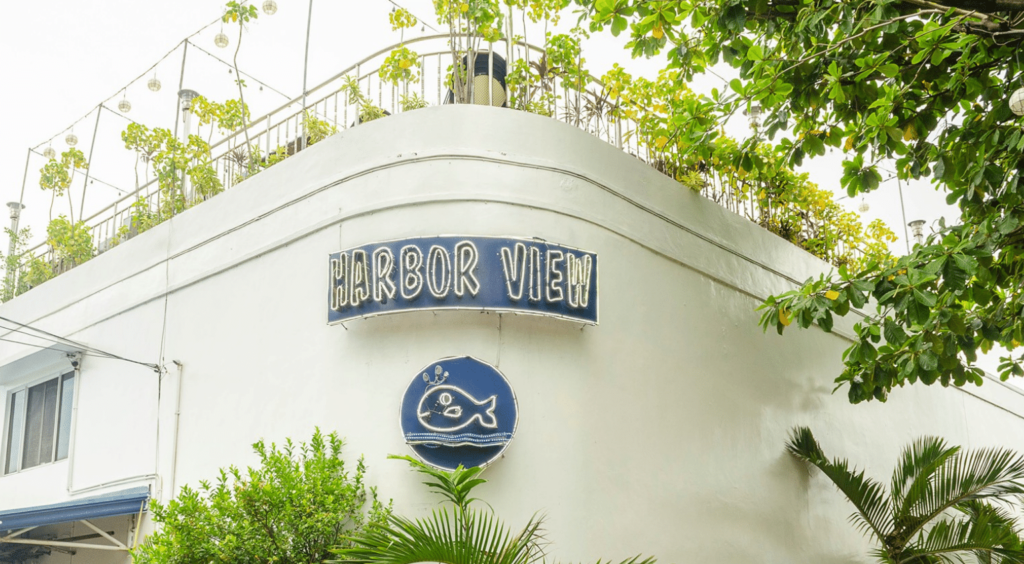 Think you can't enjoy scenic views while dining out in Manila? Think again! Harbor View offers a good meal with stunning views of Manila Bay. Its neighbors include Hotel H2O and the Manila Ocean Park and is located right behind the Quirino Grandstand.
Going by its name, seafood is the restaurant's primary specialty. Diners get to feast on tried and true favorites such as grilled bangus (milkfish), garlic prawns, and salmon belly sinigang. Harbor View also serves other beloved dishes like crispy pata, lechon kawali, and pancit canton. They also have desserts too, so don't worry about leaving your sweet tooth out!
If you two want lunch or dinner with an unforgettable view, this place should be on your list.
| | |
| --- | --- |
| Address | South Drive, Ermita, Manila |
| Operating Hours | 11:00 a.m. to 10:00 p.m. |
| Contact Number | 871-0060 |
3. 24 Chicken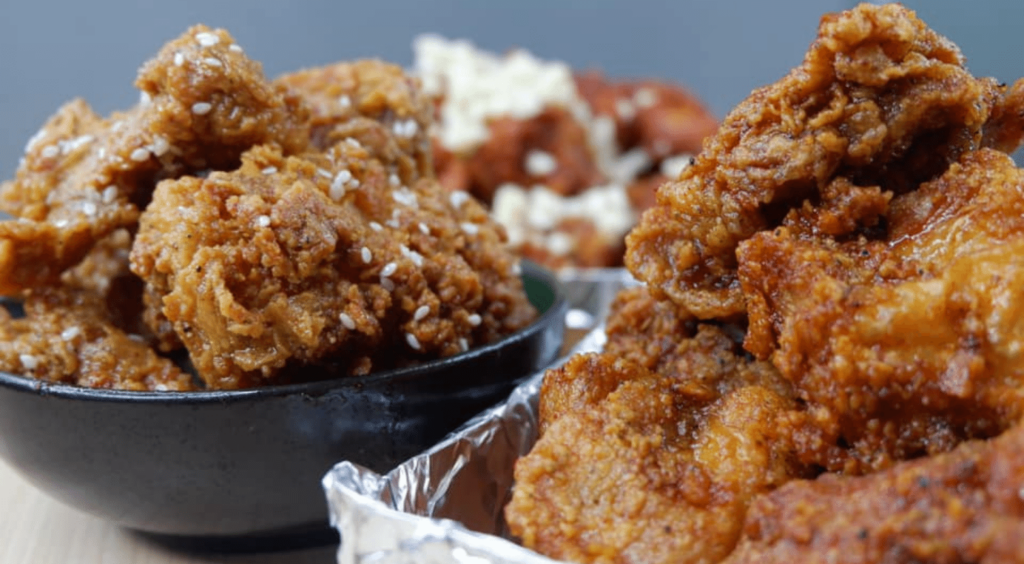 Fried chicken? Never a bad idea—especially for hungry busy bees! If you two want something casual yet delicious for your anniversary, make your way to 24 Chicken on Leon Guinto Street.
Korean-style fried chicken has been famous in the Philippines for quite a while now. 24 Chicken guarantees you a full tummy with their eight flavors, bringing something for everyone. Want something classic? There's always the original variant to tide you over. Craving for something spicy? Give the yangyeom or spicy BBQ flavors a try! You can also sample their other sauces, like the lemon-glazed and Jack Daniel's ones.
One of the good things about 24 Chicken is that they have many branches. Since Manila's a huge city (as mentioned earlier), you can get your chicken fix in the capital, whether you're from Taft Avenue or España Boulevard.
Addresses
2472 Leon Guinto Street, Manila (Leon Guinto branc)
Taft Avenue corner Pedro Gil Street, Paco, Manila (Pedro Gil branch)
2339 EGI Taft Tower, Taft Avenue, Malate, Manila (Taft Avenue branch)
1173 Padre Noval Street, Sampaloc, Manila (Dapitan branch)
Padre Noval corner España Boulevard, Sampaloc, Manila (España branch)
1006 Tomas Pinpin Street corner Carvajal Street, Binondo, Manila (Binondo branch)
Legarda Street corner Recto Avenue, Quiapo, Manila (Mendiola branch)
Operating Hours
Monday to Saturday, 10:00 a.m. to 7:00 p.m. (Taft, Dapitan, Binondo, Mendiola)
Daily, 10:00 a.m. to 8:00 p.m. (Leon Guinto, Pedro Gil, España)
Contact Numbers
0927 122 3550/0945 679 7297 (Leon Gunito)
0977 425 3754 (Pedro Gil)
0995 075 2068 (Taft)
0905 479 2282 (Dapitan)
0977 425 3756 (España)
0915 068 7005 (Binondo)
0906 277 1678 (Mendiola)
Entertain yourselves
Now that we've covered the tourist spots and hot dining places, let's look at other hotspots Manila has to offer.
1. Catch the sunset at Manila Baywalk
There's nothing like seeing the famous Manila Bay sunset with your own eyes. Pictures don't do it justice!
Make your "anniversary date ideas in Manila" list extra special by checking out this picturesque sight yourselves. The Manila Baywalk is the best place to catch it, as seen in the cover image above; not only do you get to see the sunset, but you can also have fun while doing it too!
The promenade is a two-kilometer stretch from the American Embassy to the Cultural Center of the Philippines (CCP), right behind Roxas Boulevard's iconic line of palm trees. Mini food stalls and street performers work their magic around the area, making sure you're never bored.
2. Explore Binondo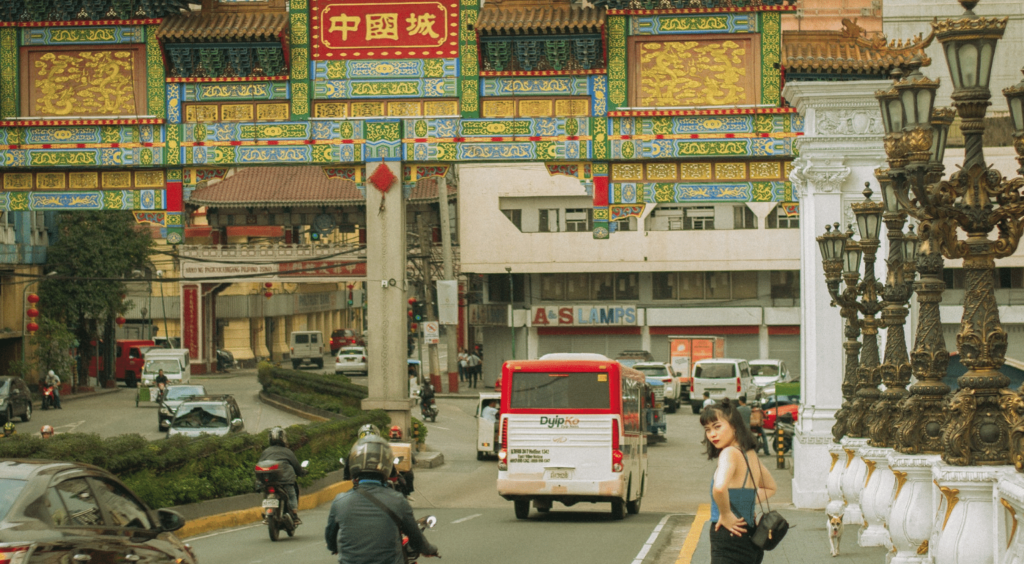 Don't pass up the chance to visit the world's oldest Chinatown! Binondo's busy streets will take you on an unforgettable adventure within this special part of Manila.
There's a lot you two can do while you're in this buzzing district. Shop 'til you drop at its many stores. Take some history lessons at the Chinatown Museum to learn about its essence. Make the most out of the ₱150.00 entrance fee and take pictures!
Don't you dare miss a Binondo food crawl as well! The district has tons of delicious eats that you'll want to come back for. But if your appetites can't handle the crawl, that's alright! You can always choose one restaurant to spend your anniversary in. We recommend Sincerity Cafe and Restaurant—a beloved Binondo institution!
Conclusion
We hope you've enjoyed this mini Manila tour for your anniversary. Since we haven't covered the entire city, don't limit yourself to our suggestions! We're sure there are more anniversary date ideas in Manila out there. So, what are you waiting for? Make the Pearl of the Orient your oyster!