The Hungry Traveler's Full Guide to Filipino Food
You've likely heard all about the food from Thailand, Vietnam, and China, but most people have never heard of Filipino food. That's especially unfortunate because Filipino food is incredible! The cuisine is a lovely mix of flavors from around the globe, and it's a combination that epitomizes the country's long practice with Chinese, Southeast Asian, Spanish, and American foundations, all mixing with local traditions and cooking methods.
Food in the Philippines changes significantly from one area to another across various islands and provinces. Still, a few famous foods in the country stand apart from the rest and are definitely a must-try. When you visit the country, you can see simple eateries serving home-cooked, local cuisine for cheap that you can find in every corner of the street. In contrast, many cities have seen a growth in higher-end, luxury restaurants adapting Filipino food to international tastes.
With such a vibrant culinary tradition and a diverse scope of food choices, it's hard to limit this rundown to simply 10 Filipino food. However, we can impart to you the top dishes (in no specific order) that nobody should miss out on when visiting the country!
10 Filipino Dishes You Need to Try
1. Adobo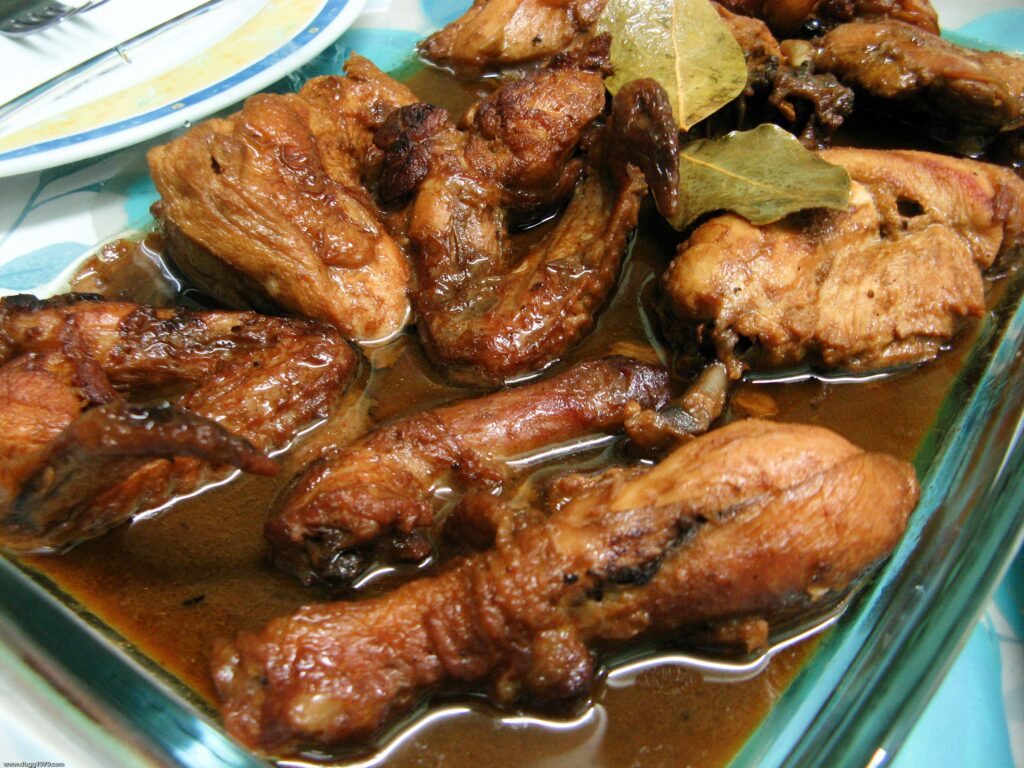 Adobo might just be the most famous Filipino food, and everybody unquestionably loves it—foreigners included. Some people even call it the Philippines' "national dish"!
Every province in the country has its version of adobo that is special to their region while still retaining the essence of the dish. The most widely recognized kind of adobo utilizes a combination of chicken and pork. The meat is marinated in black peppercorns, garlic, soy sauce, bay leaves, and vinegar. The meat then crisps up in oil before simmering to perfection in its marinade. Combine it with some tasty white rice, and you've got yourself a new favorite dish! It's a quick and easy dish with a high payoff.
Most Filipinos know how to make adobo, so if you get along well with a local, they'll gladly cook it for you! In any case, it can be found in small eateries as well as high-end Filipino restaurants.
2. Kare-Kare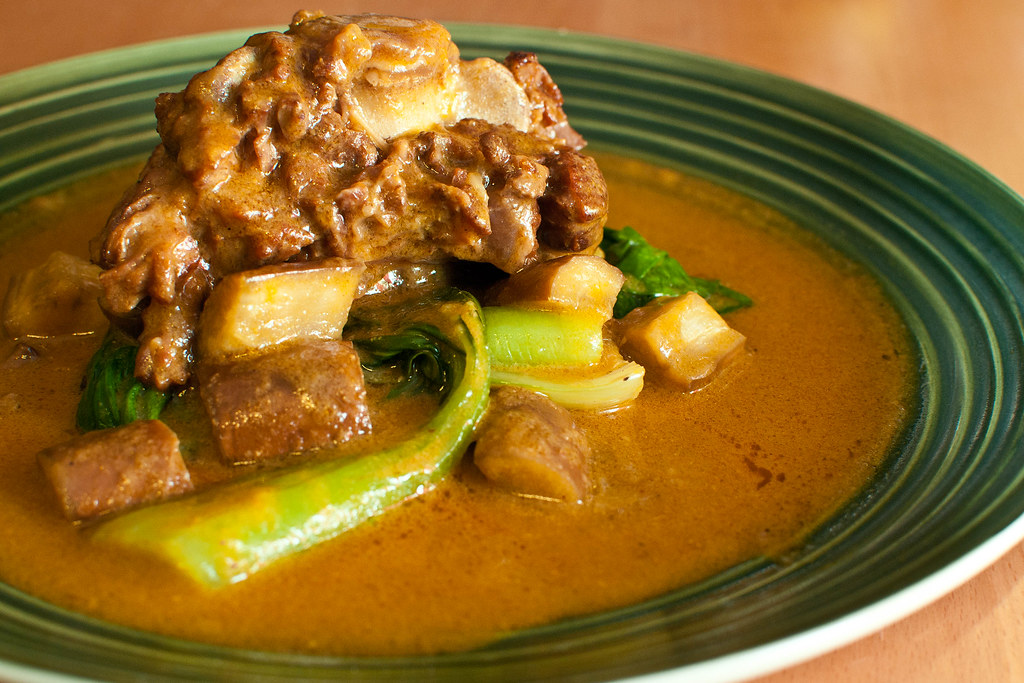 This hearty stew is served with thick delectable peanut sauce and pork tenderloin. You can also substitute other meatier slices of beef too. Without a side of bagoong, also known as fermented seafood paste, most Filipinos consider Kare-Kare to be incomplete.
Like other local dishes, you can find Kare-Kare in any Filipino restaurant or diner across the country. These restaurants each have their own variant of Kare-Kare, so you can try them out depending on your preferences.
3. Silog Dishes
Silog is an everyday breakfast favorite in Filipino food, consisting of sinangag (fried rice) and itlog (egg). It's typically eaten with longganisa, tapa, or ham. Tapsilog, which combines tapa, sinangag, and itlog, is the most popular variation.
Calamansi, soy sauce, black pepper, brown sugar, and minced garlic help marinate beef to create the perfect-tasting tapa. On the other hand, the fried rice contains a lot of garlic, which gives it a great aroma and flavor. Furthermore, vinegar or atchara, also known as pickled papaya, is also a popular side for the dish. For other types of silog, the first part of the name normally tells you what it contains. For example, longganisa is the meat dish in longsilog, hotdog in hotsilog, bacon in bacsilog, and so on.
Silog cuisines have been added to the menus of numerous local eateries, hotels, and mall restaurants. Yet, the best spot to devour this dish is at a particular "Silogan" restaurant that specializes in these meals.
4. Lechon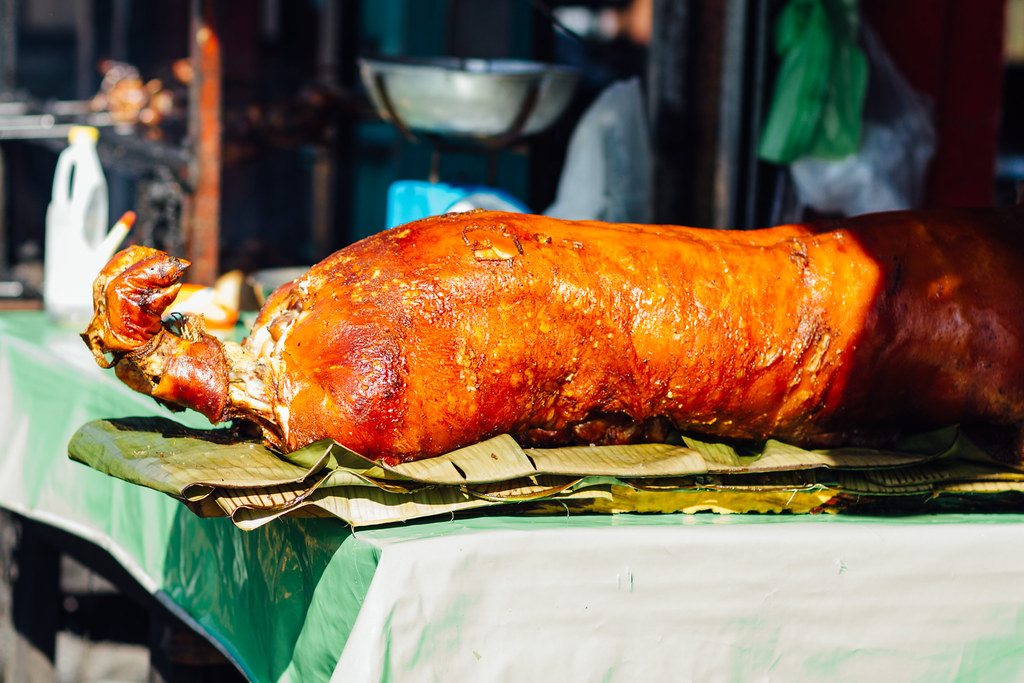 The popular Lechon is perhaps one of the major contenders among the best Filipino dishes, in addition to adobo. And besides, it's difficult to beat a juicy, thoroughly roasted pig with golden brown crunchy skin. You can find the best version of this delicious treat on the island of Cebu, but it can often be served at any large Filipino get-together or fiesta, as the locals would call it.
Cebu's Lechon has a variety of spices, including lemongrass, garlic, onions, and fresh chives. It is then slowly roasted over a wood fire for a few hours. It will be marinated and rotated often until the skin turns into a crispy golden brown, a trademark of the dish that Filipinos adore. Once all is ready, grab a plate of rice and some Lechon sauce, such as the local favorite "Mang Tomas" or "Pinakurat" vinegar, and you'll be in Filipino food bliss.
Furthermore, people often use the leftovers of lechon to make new dishes. They can be stewed with spices and vinegar to create Lechon paksiw or Lechon kawali.
5. Sinigang
Sinigang is the best Filipino food to try if you want something to keep you warm during the rainy season! It is a traditional Pinoy dish, a tasty sour broth filled with various vegetables and a meat of choice, typically made zesty by tamarind. Ingredients like citrus flavors, gooseberry tree fruits (karmay), and others increase the sourness. Pork sinigang, shrimp sinigang, and fish sinigang are all common variations.
You can find sinigang in many Filipino restaurants and eateries around the country, including Victorino's, Abè, Sentro 1771, Cafe Laguna, and Mamou.
6. Crispy Pata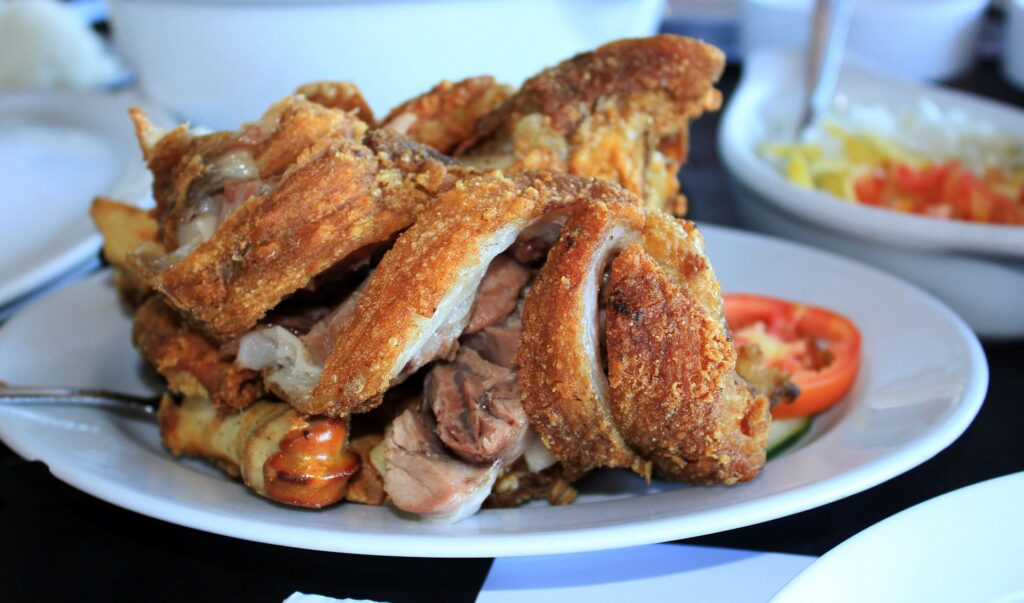 If you can't get your hands on a whole Lechon, a luscious crispy pata is another tasty Filipino food. It's a dish that involves deep-frying the entire pig leg to perfection. Serve with a soy-vinegar dip with sliced garlic and chili, and you'll have your delicious meal. Before they fry it, a spice mixture flavors the meat. It's traditionally served chopped with pickled papaya and a tart sauce made with vinegar, soy sauce, and a variation of spices.
You can find crispy pata in any Filipino-themed restaurant in the country. It may be a little costly, but it's definitely worth it!
7. Sisig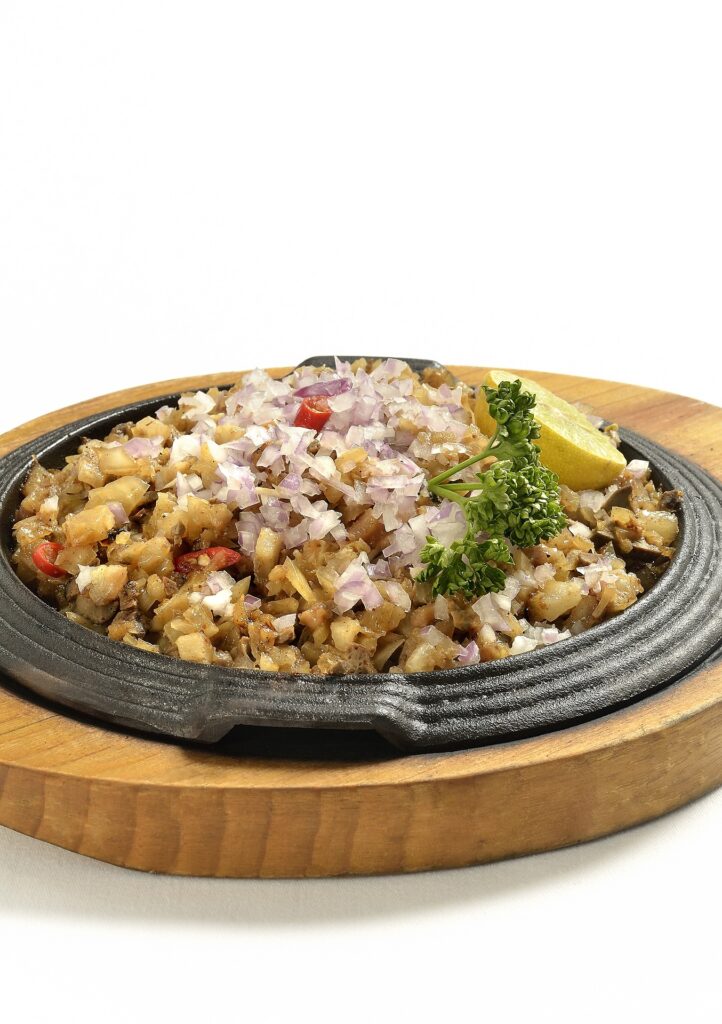 Sisig is another popular Filipino food that was originally from the province of Pampanga, specifically in Angeles City. This traditional Kapampangan dish is made by boiling and barbecuing parts of a pig's head, feet, cheeks, and jaws. They are then prepared with calamansi, onions, pepper, salt, chili flakes, and vinegar.
This dish may sound quite bizarre, particularly if you're not a fan of exotic cuisine. But if you're willing to try something new, you'll definitely enjoy sisig. You can even find it in some of the Philippines' most renowned restaurants. You're in for a surprise if you eat it alongside a bottle of local beer like San Miguel. And besides, sisig is a pulutan or food that goes well with alcoholic beverages. If you can't bear the thought of consuming the meat from a pig's head, there are other sisig options to try, such as tuna or chicken sisig.
If you want to try the original and authentic sisig dish, go to Aling Lucing's Sisig in the city of Angeles, Pampanga.
8. Bulalo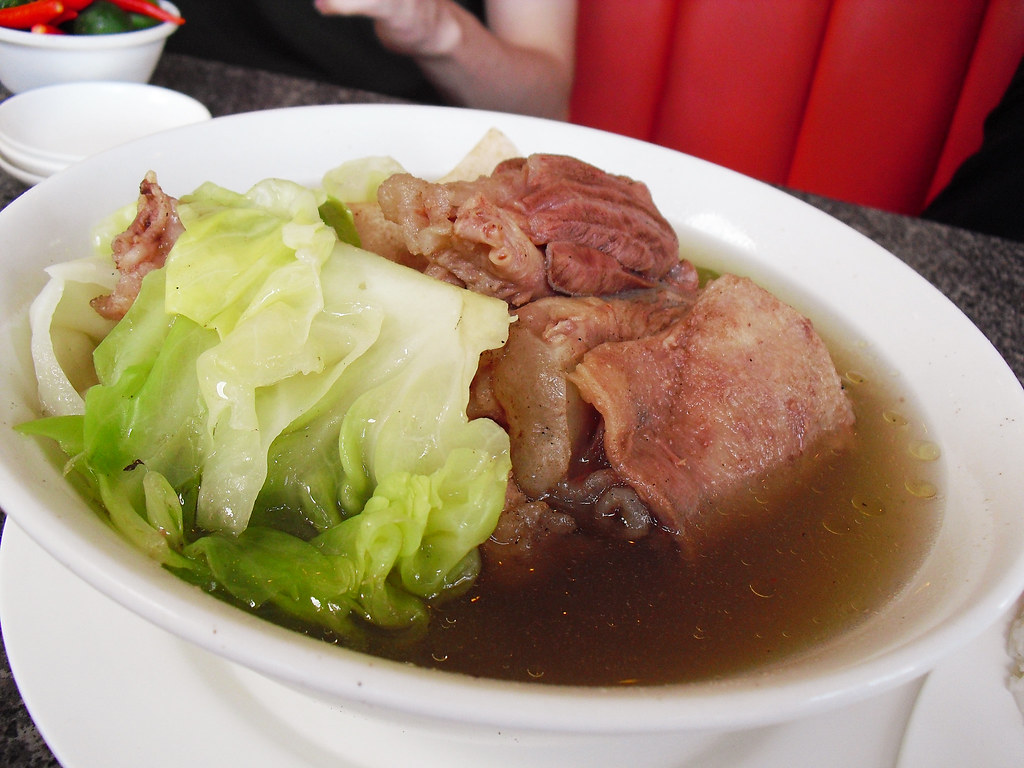 Bulalo, a specialty of Batangas and Cavite in Southern Luzon, is one of the many famous Filipino beef stew dishes! It's particularly satisfying to eat during the monsoon season, on cold rainy days, or on a vacation in Tagaytay.
This light stew is achieved by cooking meat shanks and bone marrow until the collagen and fat disintegrate into the broth. It's likewise blended in with various vegetables like cabbage, taro, potatoes, corn, and string beans, among numerous others. For a total supper, eat it with white rice with soy sauce or fish sauce with calamansi.
You can find bulalo on the menu of any Filipino-themed restaurant. But the Bulalohan stalls at Mahogany Market in Tagaytay City are the perfect place to try this soup.
9. Kinilaw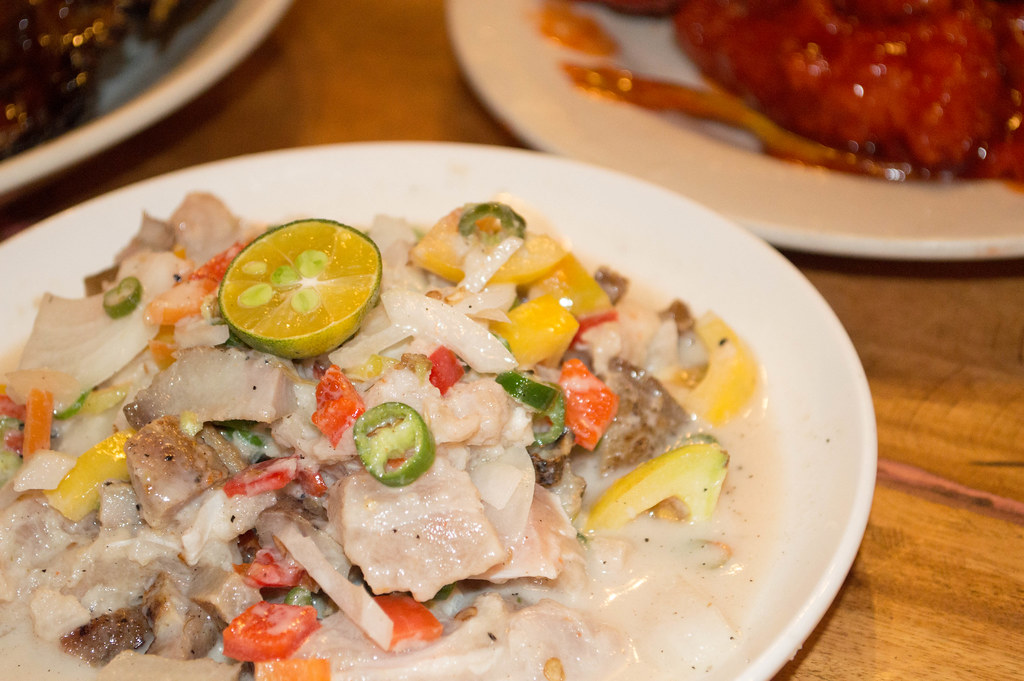 Kinilaw is a Filipino food appetizer, made with fresh, cubed fish and seasoning made with vinegar, ginger, garlic, pepper, onion, and chili. It's similar to the Latin American appetizer ceviche or seviche, but instead of being using citrus juices, vinegar flavors kinilaw. Since the acid changes the protein structure, each of these processes can 'cook' the seafood.
Local people and eateries in the Philippines' seaside provinces, like Cebu, Palawan, and Bohol, serve this dish since they can easily obtain fish from the seas nearby.
10. Lumpia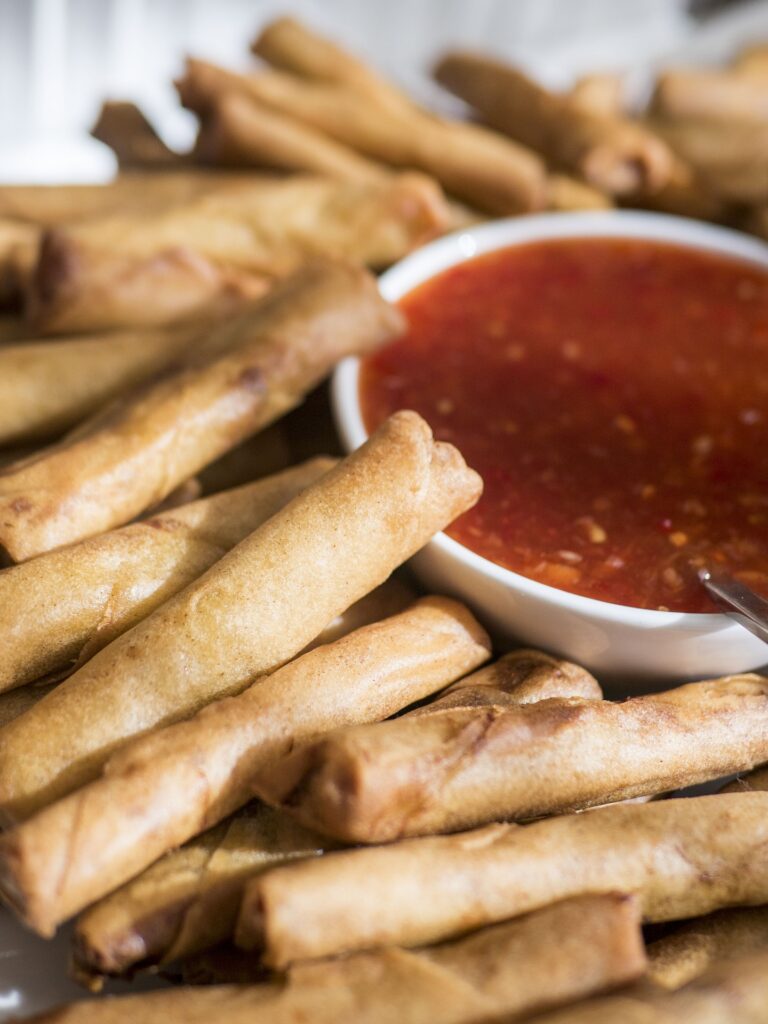 You can serve deep-fried spring rolls as a dish, an appetizer, or snack in any Filipino gathering. There are various types of lumpia, but the wrap is usually very thin and made from flour, salt, and water. It typically wraps the flavorful fillings of various kinds (usually meat). You can dip lumpia in vinegar, sweet chili sauce, sweet and sour sauce, or banana ketchup.

Conclusion
Filipino cuisine can be both interesting and delectable, and it's always best to share these dishes with a companion. Meet up with locals using TrulyFilipino and share these delectable Filipino dishes with them!