The Best Guide to Dating In Taguig In 2021
Taguig City is one of Metro Manila's most modernized areas. Full of sleek architecture and diverse attractions, it's made a name for itself and stands out from Metro Manila's other 15 cities, thanks to impeccable urban planning strategies. The iconic Bonifacio Global City (or BGC for short, pictured above) is a prime example of such efforts. If you're a resident, this post doesn't need to tell you where to go and hang out with your boo. But if you're a tourist or local who doesn't know their way around the city, don't fret about dating in Taguig!
This guide takes you on a little field trip and checks out the best spots for dating in Taguig.
Going on Taguig Dates
Fancy a romantic dinner date? Is a museum visit up your alley? These are just some of the best things to do when going on a date in Taguig.
Get curious and nerdy
Are you and your partner science fans? If so, this first stop is perfect for both of you! Kill time by enjoying the fantastic displays The Mind Museum has to offer. Since opening its doors in 2012, this magical place has filled curious minds with facts and wonders. Who says nerds can't have fun?
Fun fact: The Mind Museum is the Philippines' first world-class science museum. Now that's something to be proud of, right?
The best thing about this museum is that it has more than 250 interactive exhibits every visitor will love. Don't forget to take pictures from time to time during your visit while you two have fun!
Address: JY Campos Park, 3rd Avenue, Bonifacio Global City, Taguig City
Website: https://www.themindmuseum.org/
How to Get There:
Via Train
Disembark at Ayala Station.
Head towards the BGC bus station, located at McKinley Exchange. Hop on the Upper West Express Route and get off at the Bonifacio Stopover. From there, the museum is just a short walk away.
Via Bus
North (Quezon City, Caloocan, Malabon, San Juan, Navotas, Mandaluyong, Marikina, Valenzuela, Pasig, and the City of Manila)
Ride the bus going to MIA or Baclaran. Disembark at Ayala Avenue.
Cross EDSA either through the overpass or MRT station. Make your way to the BGC bus station afterward.
Get on the Upper West Express Route and make your exit at the Bonifacio Stopover. The museum shouldn't be too far from there.
South (Pateros, Las Piñas, Pasay, Parañaque, Muntinlupa, and Makati)
Take the bus that's headed for Fairview or Cubao. Hop off at Ayala Avenue.
Go to the BGC bus station and ride the Upper West Express Route bus. Stop at the Bonifacio Stopover, then walk towards the museum.
Appreciate the city's street art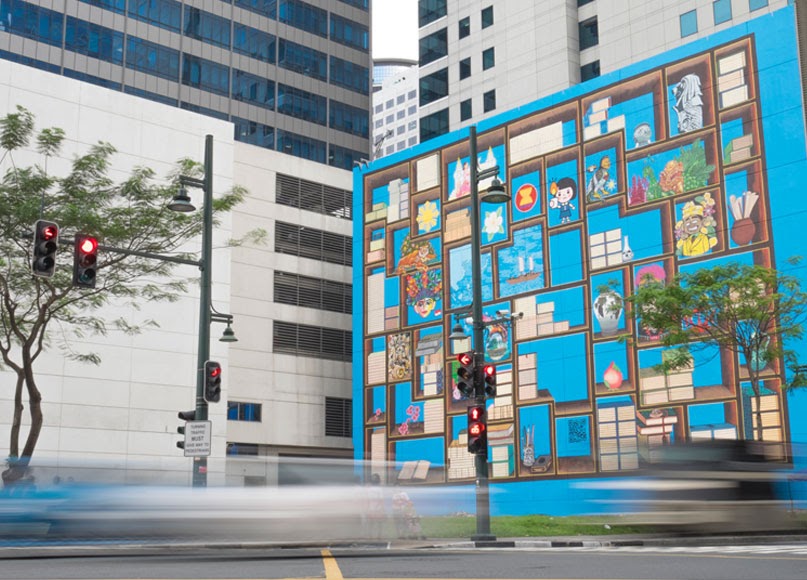 One of the best things about BGC is the various street art surrounding the area. Since 2015, local and international have turned the district's once-drab walls into colorful masterpieces. It's all thanks to their work, along with the Bonifacio Arts Foundation's (BAFI) support.
Since there are artworks aplenty in the streets of BGC, you can pretty much set up an impromptu photoshoot anywhere—provided you don't cause any public disturbance, of course. You and your partner can ham it up for the camera and take photos of yourselves (and each other) with the artworks as your backdrops. And the best part? It's all free!
Spice up your Instagram feeds by getting artsy!
Website: https://www.artsatbgc.org/
How to Get There: BGC's a pretty walkable area, so you shouldn't have any trouble finding them! You can even bring your bike along with you if you want.
Get even artsier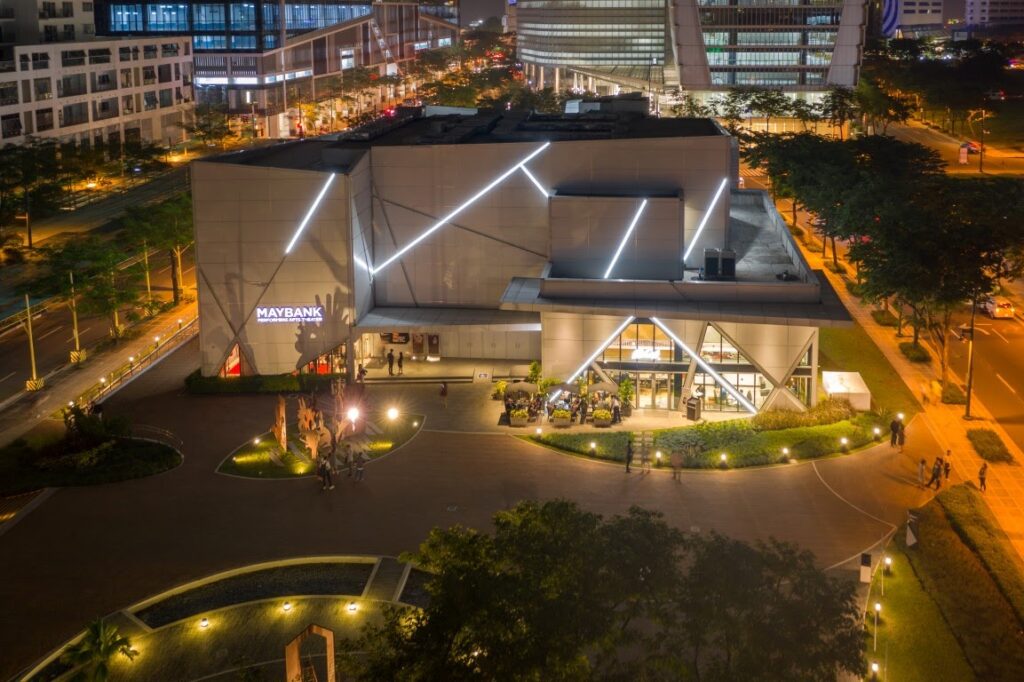 A world without the arts is a dull one. Fortunately, BGC's art supply doesn't come up short. The BGC Art Center shows that artists and performers definitely have a place on this planet, even in a busy city like Taguig.
The BGC Art Center has three sections: one, the Maybank Performing Arts Theater, which is the place to be for indoor events like plays. The other two venues, the Alveo Central Plaza and the Sun Life Amphitheater, are excellent places for outdoor affairs, such as bazaars.
If you two love all things art, the BGC Art Center's a perfect dating place. Catch a show or hang out at an outdoor fair before calling it a day.
Address: 26th Street cor. 9th Avenue, Bonifacio Global City, Taguig City
Website: https://www.bgcartscenter.org/
How to Get There: Check out this map on their Facebook page.
Get a slice of Italy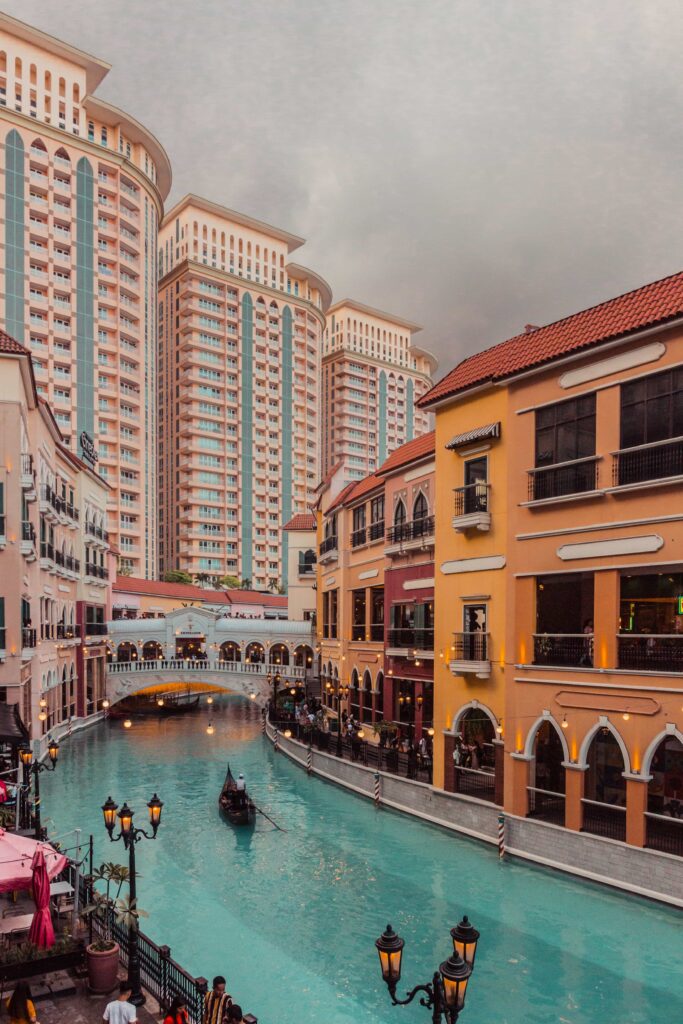 Don't let the picture above fool you: what you're seeing is a Taguig hotspot that looks like Italy. The Venice Grand Canal Mall is not only famous amongst Taguigeños, but it's also popular throughout the rest of Metro Manila.
If romantic dates are on your agenda, the Venice Grand Canal Mall is an excellent place for them. How can one not enjoy its ambiance and aesthetics? You'll definitely be snapping photos here and there due to its scenic environment. No need to book a flight to Italy just to get a taste of Mediterranian vibes with this joint around town!
The mall's famous gondolas aren't the only things worth visiting. There's a ton of shops and restaurants you and your lover can enjoy. We bet you two will find something to do as you spend some much-needed quality time enjoying each other's presence.
Address: Cluster B, McKinley Hill Garden Hill Villas, Upper McKinley Road, Bonifacio Global City, Taguig City
Website: https://megaworld-lifestylemalls.com/mall/mckinley-hill/
How to Get There:
Option 1
For North- and South-bound folks, take the MRT and get off at Ayala Station.
Take the West Bound bus (which should be a few steps away from the station) going to The Fort. Get off at the corner of Fifth Avenue and McKinley Road, which should be the first stoplight you'll see upon entry.
Ride the jeepney en route to FTI Gate 3. It'll pass by McKinley Hill, which is a short walk away from the mall.
Option 2
North- and South-bound visitors can take the MRT and stop at the Guadalupe Station. Make your way to Jollibee, which is only a hundred meters away.
Look for and hop on the jeepneys that are bound for FTI Gate 3/Market Market. Get off at McKinley Hill and walk from there until you reach the mall.
Enjoy a little greenery in the city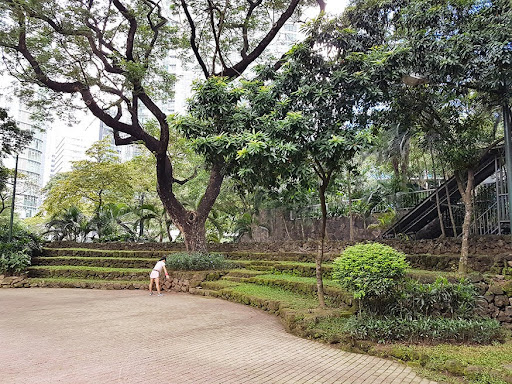 There's always room for a bit of vegetation in a concrete jungle. BGC has parks that are a nice break from all the city's sleek and modern architecture. One of these parks is Kasalikasan Garden, pictured above. It's an area where people can take a breather from the city's hustle and bustle. Thus, you and your partner can enjoy some needed quiet time here for clarity.
Fun fact: Kasalikasan is, in reality, an art installation—yes, you read that right. Call it, if you will, a living, breathing sculpture. Jerry Araos is the mastermind behind this natural masterpiece. The garden has a mandala—perfect for meditation. Carabao grass, pebbles, and sand give life to this little pocket of paradise.
There are other great gardens in the BGC area worth checking out. There's JY Campos Park if you need a natural cool-down after all the fun at The Mind Museum. Get a little workout and do some jogging at Track 30th, Terra 28th, or BGC Greenway Park.
Here's a bit of trivia for you: the BGC Greenway Park is Metro Manila's longest urban park. It spans 1.6 kilometers, connecting McKinley Parkway to many residential high-rises and offices. You'll be in for quite a walk when passing by here!
Bond over food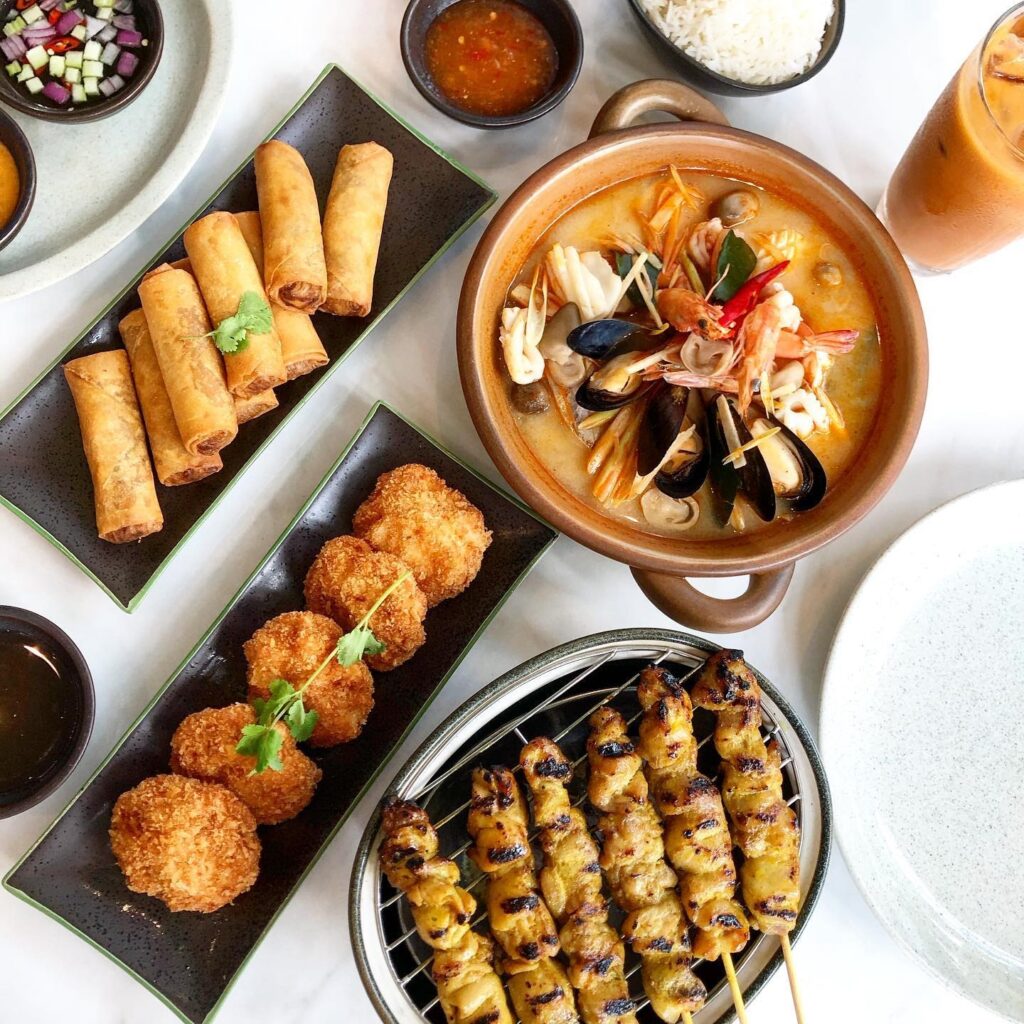 A date isn't complete without a bite to eat. Good thing BGC has a ton of beloved institutions and charming hole-in-the-walls that'll satisfy every palette.
Fancy the Thai dishes pictured above? Then The Mango Tree's your best bet. For authentic Spanish fare, book a table at Las Flores. Go local and modern with 7107 Culture + Cuisine. Do you have a sweet tooth? Head down to Wildflour Cafe for some dessert.
If you two have the whole day together, why not go on a food crawl? Explore Burgos Circle's countless eats. Go to Mercato Centrale if you prefer low-key affairs. In short, whatever your appetite's up for, Taguig has plenty of options in store! Wondering where to eat in Taguig won't be much of a problem.
Addresses:
The Mango Tree
7th Avenue, Bonifacio High Street Central, Bonifacio Global City, Taguig City
Las Flores
Ground Floor, One McKinley Place, 25th Street, Bonifacio Global City, Taguig City
7107 Culture + Cuisine
Ground Floor, Treston International College, University Parkway District, 32nd corner C5 Road, Bonifacio Global City, Taguig City
Wildflour Cafe
Ground Floor, Six/NEO Building, 4th Avenue corner 26th Street, Bonifacio Global City, Taguig City
And there you have it! These are just some of our suggestions for Taguig date nights or days. Before heading to these spots, make sure to do your research by contacting them and looking them up online to check updates on rates and opening hours.